Does a flight in a Tiger Moth appeal to you?
Our de Havilland Tiger Moth is a Vintage Bi Plane built in the early 1940's and gives you the chance to experience flight in an open cockpit aircraft. So contact us to book an aircraft experience where you will don a Leather Jacket & Headgear and take to the skies.
Tiger Moth Flights are as follows:
15min Flight $180 (Non Aerobatic)
20min Flight $230 (Optional Aerobatics)
30min Flight $300 (Optional Aerobatics)
Payment is made at the time of the flight and we accept payment by Cash, Eftpos & Credit Card (Visa Mastercard)
Alternatively we can issue a Gift Voucher which is valid for 12months. Simply contact us for more details.
Ph 032086046(daily) or 032089755(Mon to Fri)
or email aviationmuseum@goredc.govt.nz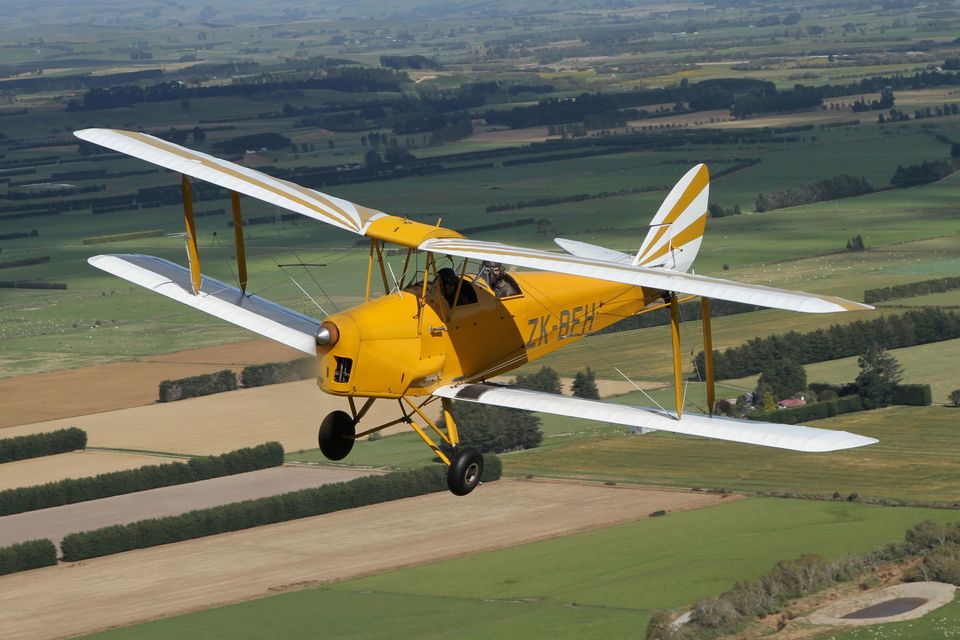 Flights are purely scenic but if you are a bit of a thrill seeker then some aerobatics can be included at no extra cost, depending on conditions on the day of flight.

Your Pilot Ben is usually onsite Mon-Fri so a spur of the moment flight can often be arranged.

To avoid disappointment we do recommend booking in advance and note this is ESSENTIAL if you are after a weekend flight.

All flights are subject to weather - open cockpit aircraft. But will can work with you if we need to reschedule due to this.

To pencil in a flight time we need:

Name of passenger -

Flight duration time -

Selected day for flight:

Contact phone number –
Other de Havilland we may also have flying occasionally are featured below.